What is Basic Attention Token? (BAT)
Basic Attention Token or BAT is a digital advertising token that is built on the Ethereum blockchain to address the broken system of digital advertising. The BAT ecosystem via its token is designed to create an ad exchange marketplace--connecting advertisers, publishers, and users in a decentralized manner so that nobody is "screwing" the other.
If you haven't accepted the reality that we are in a digital age, it's time you do. Marketing has evolved, injecting itself in our everyday lives in ways that we almost forget and look past.
With internet browsers like Google Chrome, Mozilla Firefox, Opera, Brave Browser, and Explorer, advertising continues to grow increasingly more difficult and sophisticated. As you're reading this, you're probably thinking of the annoying pop-up advertisements that flood your screen. If not, well, you are now.
In the age of digital advertising, there are three players--the User, Publisher, and Advertiser. These roles were publicly addressed and exploited before U.S. Congress when Facebook and its CEO, Mark Zuckerberg had to address the biggest data scandal that would change our digital world forever--Cambridge Analytica. And what did we learn? That digital advertising is broken.
In the scandal, it's clear that users' privacy is violated, often without their knowledge. The problem for advertisers is the inability to effectively monetize their ad since the platform takes a good chunk of their earnings; same for publishers.
Enter BAT.
Breaking Down the Token
The BAT team envisioned its token to specifically:
Serve as a unit of exchange by removing the middleman;
Reward users, advertisers, and publishers (without harming the other);
Publishers can share into and receive a portion of the ad revenue; and
Advertisers get better ROI for their content
Start buying and trading cryptocurrency
Sign up and start opportunities with the future of currency
Sign Up Now
Purchasing KNC With Kyber Swap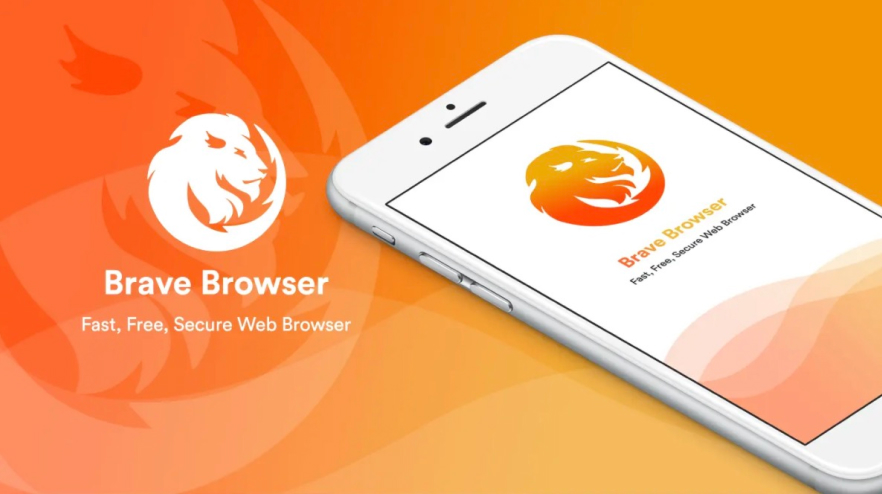 To fully implement this mechanism, the BAT team creative Brave, an in-house native internet browser that is integrated with the BAT system. The system uses the BAT token as its native token.
The team is led by Brandon Eich, the father of Javascript and the co-founder of Mozilla and Firefox, followed by Brian Bondy (Mozilla, Evernote), Yan Zhu (Yahoo), and Scott Locklin (Kerf Software).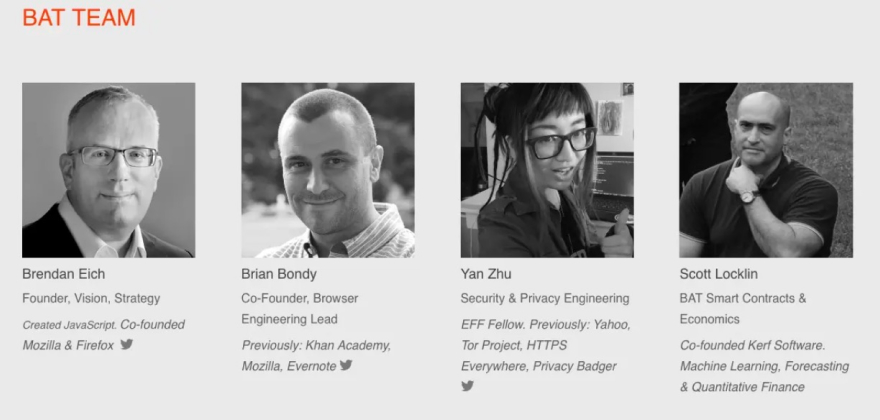 Source: Basic Attention Token
How it works
If you haven't used Brave Browser, privacy and speed defines its utility. Specifically, Brave blocks all the unnecessary ads and trackers--by default. No pop-up blocker needed or plugin to install.
To the user's advantage, Brave is regularly monitoring the "Attention Value" (AV) of each and every ad on the browser.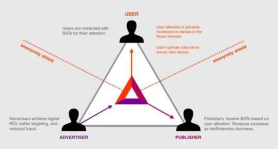 The AV is calculated based on the incremental time the ad is in front of an individual's eyes and the number of ad pixels that are visible in proportion to relevant content. This is done through machine learning, where users are ultimately provided the kinds of ads they want to see.
$35M in 30 Seconds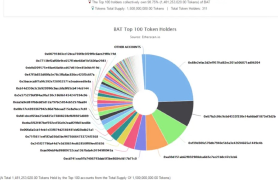 BAT found itself immersed in legal drama and scrutiny involving its ICO, arguably one of the most controversial ICOs to date.
How is it that within 30 seconds, the BAT ICO raised $35 million? As illustrated in the graph above, one buyer paid $4.7 million worth of Ether to buy BAT.
Another user paid $6,000 worth of mining fees to basically hold their spot at the front of the line.
In total, only 130 people bought tokens...with five (5) people buying half of the supply. Nuts. For more information, TechCrunch does a decent job explaining this.
What's the Industry Saying?
As of October 2020, Brave Browser has become one of the top-rated web browsers on Google's Google PlayStore, according to Decrypt. According to the report, sources close to the company said Brave Browser has a current rating of 4.8 stars out of 5, from more than 238,000 total reviews--accelerating Brave well-beyond market leaders like Chrome and Firefox.
Brave closed out December 2019 with more than 15 million monthly users since first launching version 1.0 just a month prior. That same month, Brave hit 40 million downloads on Android OS, even amidst the global concern surrounding user privacy. Thanks, Facebook.
Looking into Brave's future, it's safe to say that it's only upwards from here, from a privacy standpoint.
Start buying and trading cryptocurrency
Sign up and start opportunities with the future of currency
Sign Up Now