What is Nexo?
NEXO is the world's largest crypto lender operating in the centralized finance scene, or CeFi, based out of Switzerland. Launched in April 2018, NEXO made a quick and powerful name for itself by offering instant crypto loans, which provides fast, immediate access to cash and support for maintaining ownership of one's digital assets, with no reliance on credit score checkups. CeFi operates separate and apart from the DeFi sphere due to the bridge between the worlds of traditional lending and blockchain.
All users are simply required to deposit supported crypto tokens (Bitcoin, Ethereum, XRP, Cardano, Monero) into their Nexo wallet, followed by immediately receiving their cash-based token.
As of November 2020, the Swiss-based project has 800,000 users, offering access to crypto through 40+ fiat currencies. The company has processed over $3 billion in crypto-based loans in the last two years, having also backed its first mortgage for former child actor, cryptocurrency billionaire, and the 2020 U.S. Presidential Election candidate, Brock Pierce, with a $1.2 million loan for a home in Amsterdam. Pierce didn't need to make any repayment because Bitcoin's price had steadily increased since he had taken out his loan.
How It Works
In summary, Nexo's business model uses an "under-leveraging" strategy to protect both the company and its customers. The Nexo platform allows clients to borrow a set percentage of the value of their crypto, protecting clients from the daily fluctuations of crypto prices, allowing their loan-to-value ratio to remain intact. This ensures that the client is less likely to lose their crypto and ensuring Nexo is protected should a customer default on their loan.
Adding to the success of the model is the real-time tracking provided by Nexo Oracle, tracking the changes in a cryptocurrency's price in real-time, drawing data from several sources to prevent any price discrepancies when granting a loan to a customer.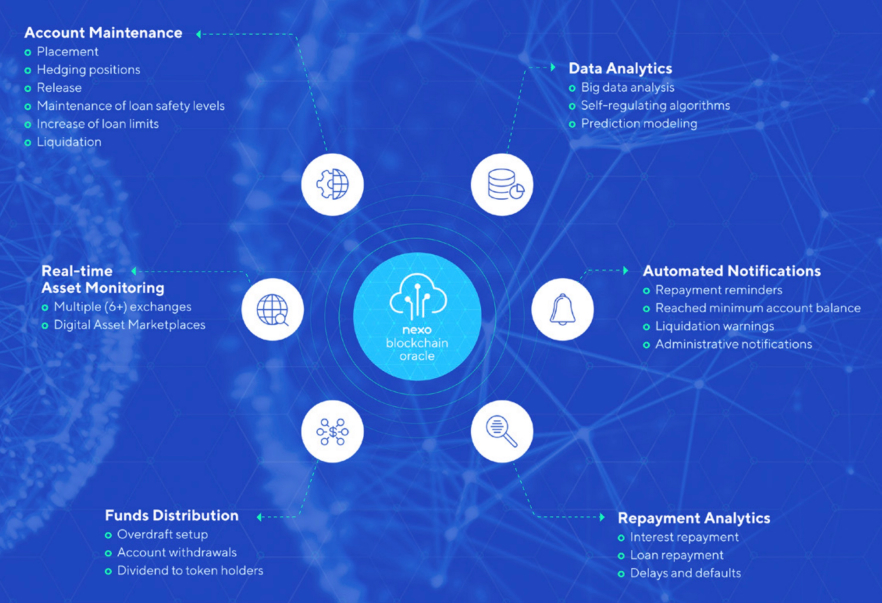 Source: Nexo whitepaper
#1 - Nexo Oracle
For starters, a client will need to transfer their crypto assets into their secure Nexo Account to begin using the Instant Crypto Credit Lines.
The Nexo Oracle will then automatically calculate the available amount for the credit line (based on real-time data on a cryptocurrency's price) and set up the loan based on that data once the relevant blockchain confirmations for the collateral assets are received. Blockchain oracles are third-party services that provide smart contracts with external information, serving as bridges between blockchains and the outside world.
The loan limit is based on the market value of the crypto assets which are pledged by the client as collateral. Unique to NEXO's platform is the dynamic nature of the credit line: the Nexo Oracle increases the loan limit in the event a client's assets appreciate in value. Additionally, users may utilize a variety of cryptocurrencies to back their loans, leaving them less vulnerable to market fluctuations and volatility.
All custodial assets are then placed in the Nexo Wallet, which are in turn held in cold storage in Class III bank-grade vaults with the SOC 2 Type 2 certified leading crypto custodian BitGo.
#2 - Receipt of Funds
Once the transaction begins, the client instantly receives their loan in one of 40+ fiat currencies via bank transfer or the free NEXO card. Upon receipt, the client is then able to withdraw part or all of their loan, anytime in a single transaction or multiple smaller withdrawals, accruing interest only on what they actually spend.
#3 - Repayment of the Loan
Nexo also offers a number of operations for repaying the loan, including a bank transfer in fiat currency or with cryptocurrency. The Nexo Oracle records the transaction on the blockchain and instantly updates the loan limits once repayment is received.
If a user has enough NEXO Tokens staked in their account to cover their accrued loan interest, Nexo provides a discount of 50% on the total amount. However, the user must have staked those NEXO Tokens in their Nexo Account for the entire duration of their loan to receive the full discount.
Unlike traditional loan programs, Nexo doesn't require any monthly repayments so long as the outstanding balance is within the available loan limit. Once the loan is fully repaid, the client can then withdraw their crypto assets from their Nexo Wallet or start a new credit line against that same collateral.
Benefits to Using Nexo
While this article is not intended to provide financial or investment advice of any kind, there are some characteristics of the platform that make it extremely attractive:
Secure storage and $100M insurance for custodial assets with BitGo;
Automated and guaranteed instant approval with no credit checks;
The best interest rates of just 5.9% per year and only on what you actually use;
No minimum loan repayments;
Same/next day free local bank withdrawals;
Available worldwide in 200+ jurisdictions;
Available in 40+ fiat currencies including USD, EUR, JPY, etc.; and
ZeroFees – no origination and no liquidation fees, no FX commissions.
In its first 2 years of existence, Nexo has become one of the leading financial institutions for digital assets, having already made three dividend payments amounting to $6.1M to its loyal customers.
Start buying and trading cryptocurrency
Sign up and start opportunities with the future of currency
Sign Up Now